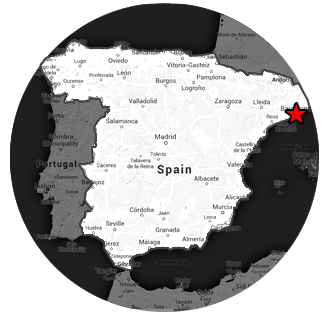 In stark opposition to Madrid with its cured meat and baked specialties, Barcelona was full of fresh seafood. We tried many local favorites (trying to avoid touristy places as much as possible) and got a wonderful taste of Spain. Based on online recommendations, we went to several bars, including La Fira on our last night, known for their flaming cocktails/shots.
Other photo sets in this country include:
Photo Set Information:

Date Taken: September 2010
Camera Used: Fuji Finepix S700
Our first meal in Barcelona was at Taverna del Bisbe, near the Gothic Quarter.
There was actually a fair amount of fried seafood dishes in Barcelona. Our first was this Andalusian style calamari.
I also had my first razor clam in Barcelona. It was incredibly fresh and delicious.
Of course, not everything was seafood. We also ordered a side of spicy garlic potato salad.
I forget what restaurant this was, but it was one of the many with sidewalk seating. These were fried prawns, stacked three rows high, with a spicy honey sauce drizzle.
We drank many Spanish beers in Barcelona, including Moritz.
The most common beer was definitely San Miguel, and it was among our favorites in Spain.
Flan for dessert at Egipte restaurant near La Rambla.
Before heading out on a long day, we stopped by Nuria (near Plaça de Catalunya) for breakfast. There, I ordered Cacaolat, a chocolate drink similar to Yoohoo.
Vinegar and olive oil bottles at Nuria
An American-style breakfast at Nuria, including a hamburger patty, fries, salad, and a fried egg.
Doner was very popular in Barcelona as a quick meal. We passed by many, but the only one we stopped at was aptly named Doner Kebab. This is the falafel pita.
On our last day in Barcelona, we were walking back to the bus along the boardwalk and were stopped by a hostess at Ria de Vigo. He invited us to return for dinner, and promised us a round of shots on the house. We happily obliged.
We started out with beef carpaccio, which was excellent.
We had some fried calamari for the second time.
One of our shared entrees was a wonderfully delicious mixed seafood and chicken paella. It came iwth prawns, clams, and tons of other goodies.
And of course, more seafood. This was a delicious baked monkfish.
Our host kept his promise, and provided us with these green shots. We asked him what it was, and all he told us was that it was a "strong spirit". That was all we needed to know.
Our final stop of the night (and of our Barcelona trip) was to La Fira, a carnival-themed bar. It's known for its flaming cocktails and shots.
The pyromaniac bartender had a lot of fun crafting shots, and sometimes setting the bar on fire in the shape of a cross.
More shots on fire.
Our wonderful bartender at La Fira. I professed my love to her before we left.