The 18th anniversary of the September 11th attacks marked the first time I actually stepped foot into Manhattan to photograph the lights. In the seven years that I've made this a tradition, I've typically stayed in Brooklyn (although I have walked across the Manhattan and Brooklyn Bridges for better vantage points). This time around, I started off at Washington Square Park, then made my way down to the 9/11 Memorial South Pool, and finally went to Battery Parking Garage to see the lights up close for the first time. It was quite an experience.
Other related photo sets that you might be interested in:
Photo Set Information:

Date Taken: September 2019
Camera Used: Pentax K-3ii
School was back in session at NYU, and Washington Square Park was accordingly filled with young people. It reminded me of how the 9/11 attacks happened during my first week of high school in Brooklyn.
The Washington Square Arch is one of the defining symbols of Greenwich Village, if not NYC as a whole.
Looking down Greene Street on the NYU campus.
I next took the train down to the World Trade Center, where I spent hte majority of my night.
The Oculus transit hub and shopping center in front of One World Trade Center (colloquially known as the Freedom Tower).
There were many flowers placed on the names etched onto the display of the 9/11 Memorial South Pool.
There were a ton of photographers, tourists, and visitors. But for the most part, they were transient and respectful.
Fortunately, it was a very clear night, so you could see the beams extend all the way to the clouds.
It was in the high 80s in NYC, so many of the flowers left earlier began to wilt.
A few last snaps before I made my way over to the lights themselves.
FDNY Ten House Bravest responded upon the Twin Towers being attacked.
FDNY Ten House lost 6 of their bravest that day.
I walked down to the Battery Parking Garage, the roof where the beams originated. It was my first time being so close.
it was neat seeing the individual light sources. You definitely can't make out the individual lights from Brooklyn.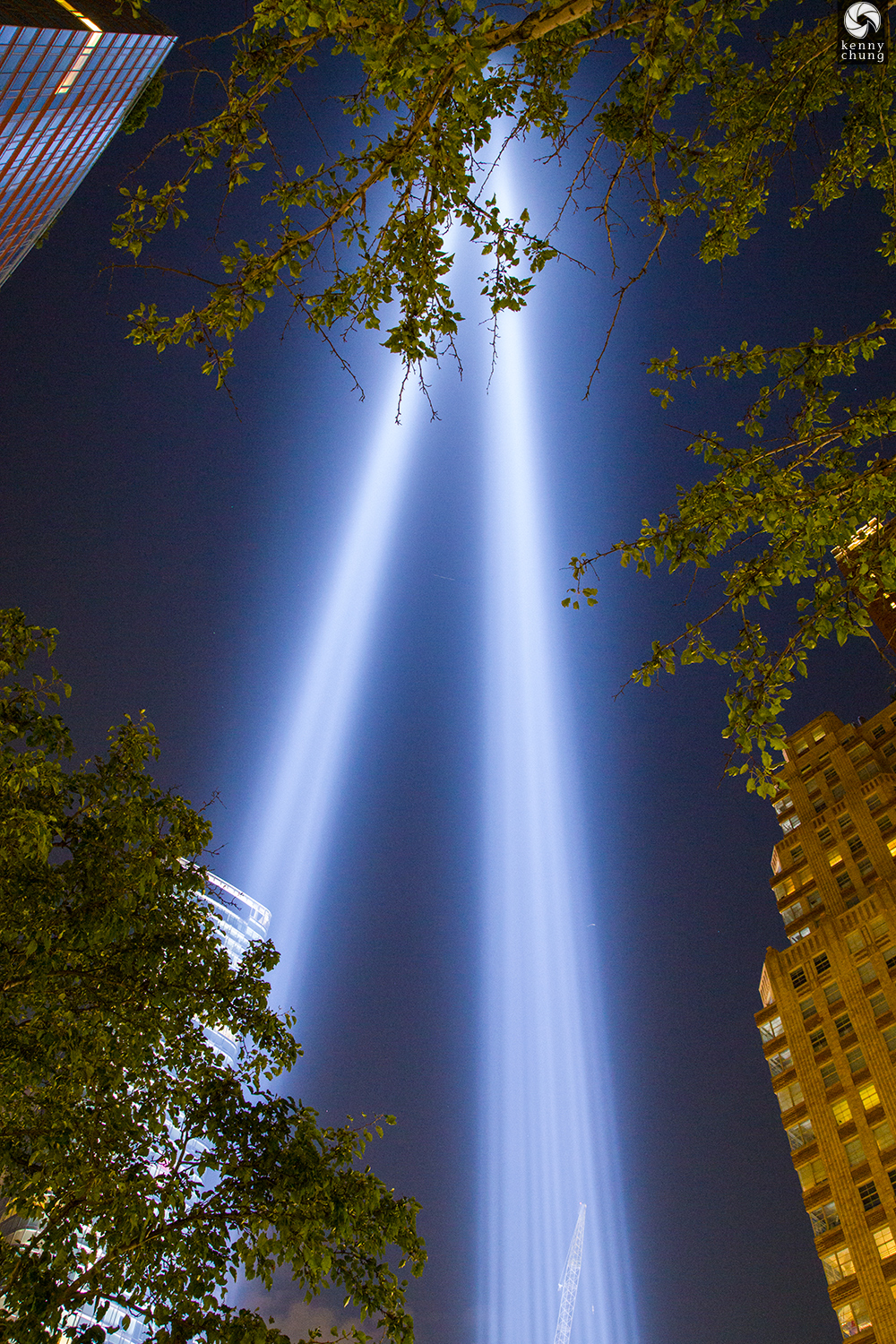 This photo was taken on the other side of the West Side Highway, near Stuyvesant High School.
This last photo was taken on my way back to the subway at the pedestrian median in the middle of the West Side Highway.